The Sam Altman–founded crypto startup Worldcoin says it aims to alleviate global poverty, but so far it has angered the very people it claims to be helping.
As Kudzanayi strolled through the mall with friends, a small crowd caught his attention. At its center, three men held up an otherworldly silver sphere that spoke in a brisk, business-like voice.
The men worked for a cryptocurrency company called Worldcoin, which had come to countries across Africa with a proposition for locals. The men were offering all comers a T-shirt and a voucher for $20 worth of Worldcoin, which one of the men boasted would appreciate 500%. All anyone had to do to claim this prize was to get their eyes scanned by the futuristic device, which they called "the Orb."
Kudzanayi, a 32-year-old truck driver, needed the money.
"Face detected," said the Orb in its robo-staccato voice when one of the men pointed it at Kudzanayi. "Open your eyes." The machine stared back at him for about 30 seconds before the men fiddled with their phones and told him they were done.
When BuzzFeed News texted Kudzanayi months later to ask him about his experience, he initially thought the message had come from a Worldcoin representative.
"You are thieves," he texted back in anger. "They robbed me of my money."
Worldcoin promised to jump-start the global crypto revolution with an audacious plan: to give out digital money to all 7.9 billion people on Earth. To spread its crypto gospel across the planet, Worldcoin recruited a corps of "Orb operators" whose job it was to scan people's irises — in order, they said, to keep people from claiming their payment multiple times. The founders, including the high-profile tech investor Sam Altman, have said their goal is ultimately to lift billions out of poverty through a universal basic income. Top Silicon Valley venture firms Andreessen Horowitz (which also invests in BuzzFeed) and Khosla Ventures have poured millions into the outfit.
Steve Jennings / Getty Images for TechCrunch
Sam Altman speaks onstage during TechCrunch Disrupt San Francisco 2019 on Oct. 3, 2019, in San Francisco.
The currency has not yet been launched, but a BuzzFeed News investigation has found that Worldcoin is already wrestling with a host of problems, from managing angry Orb operators to concerns that the company is using its cryptocurrency as a way to amass millions of biometrics and perfect a new kind of authentication technology for the blockchain era.
Confidential company presentations, Orb operator contracts, internal marketing materials, more than 100 screenshots of discussions between Orb operators and Worldcoin executives, and interviews with eight current and former Orb operators reveal that the company has angered the very people it says it's trying to help. Users from around the world, especially in Africa and Asia, have sent hundreds of outraged messages to Orb operators demanding the money they were promised.
"You are thieves," he texted back in anger. "They robbed me of my money."
Orb operators themselves have faced arrest, harassment, late payments, and a changing wage structure that they say makes the work financially unfeasible. Glitches in the Orb's technology, they say, have hampered the sign-up process and opened the door for fraud. Orb operators in Africa, Asia, and Europe spoke to BuzzFeed News under the condition of anonymity because they feared retribution from Worldcoin as well as local authorities. BuzzFeed News is not specifying the locations of Orb operators or Worldcoin users to protect their identities.
Worldcoin CEO Alex Blania acknowledged that people are upset, but said the company is learning through its field testing.
"Quite surely, in some places, communication, marketing, all of those things, could have been clearer and better," Blania said in an interview with BuzzFeed News. "And we will improve that."
The documents indicate that the true value of Worldcoin's continent-spanning field test lies in its distinctive Orbs. Rather than just facilitating the company's utopian promises, the Orb appears to be at the core of Worldcoin's ambitions to dominate the emerging business of anonymous digital authentication: in other words, proving that an online avatar is a real person without revealing who they are.
"Ensuring a person is human, unique, and alive is an unsolved problem," reads an internal Worldcoin deck marked as confidential, which was viewed by BuzzFeed News.
Worldcoin says that once its systems are perfected, it will anonymize and delete users' biometric data, thereby guaranteeing their privacy. But the company still has not committed to a timeline, even though it has captured and stored almost a half million iris scans to train its algorithms.
The launch of the Worldcoin token has also taken longer than expected, now with a vague target of "later this year," Orb operators have been told. Until then, every person who scanned their irises is left with a voucher for a cryptocurrency that's worth nothing.
Andreessen Horowitz declined to comment on this story. Khosla Ventures did not respond to a request for comment.
Worldcoin's globe-trotting crypto giveaway has taken it through rich European countries like Germany and Norway, but a focus of the startup's data collection has been in low-income countries in Asia and Africa. Biometrics play an important role in colonial history: British administrators began experimenting with them in the 1850s as a way to control and intimidate their subjects in colonial India. Worldcoin's activities in India, as well as other former British colonies such as Zimbabwe, where banks are banned from processing crypto transactions, and Kenya, where a new law forbids the transfer of biometrics data beyond the country's borders, evoke Silicon Valley's history of ignoring sensitive cultural issues and skirting regulations.
"​​Worldcoin has always tried to conduct field tests in a sample of countries around the globe that would be representative of the world as a whole," said Worldcoin spokesperson Anastasia Golovina in a statement, noting that the startup has operated on five continents. "Before entering any new country, Worldcoin always conducts a legal probe to ensure that operating there would be legal."
Facing hurdles with its Orb operators and local customs, the company has stopped operating in several countries, including Zimbabwe, France, and Ghana, according to Bloomberg.
All told, there is a disconnect between the Silicon Valley executives convinced that billions of people from diverse cultures will embrace their grandiose vision and the difficulty that Orb operators have faced on the ground as they gather eye scans from people around the world.
"They don't care what's going to happen to you as an individual," one Orb operator said. "What they care about is what's happening to their numbers, what's happening to their Orbs."
Blania strongly pushed back on the suggestion that Worldcoin's purpose was to harvest the world's eyeballs in return for a cryptocurrency that may turn out to be worthless. That notion "is just very wrong. I don't even know where to start, like this is just very wrong," he said.
Rather, he said, this was the only way Worldcoin could achieve its dream of introducing the whole world to crypto while ensuring no one gets more than their fair share. "We didn't want to build hardware devices — we didn't want to build a biometric device, even. It's just the only solution we found," he said.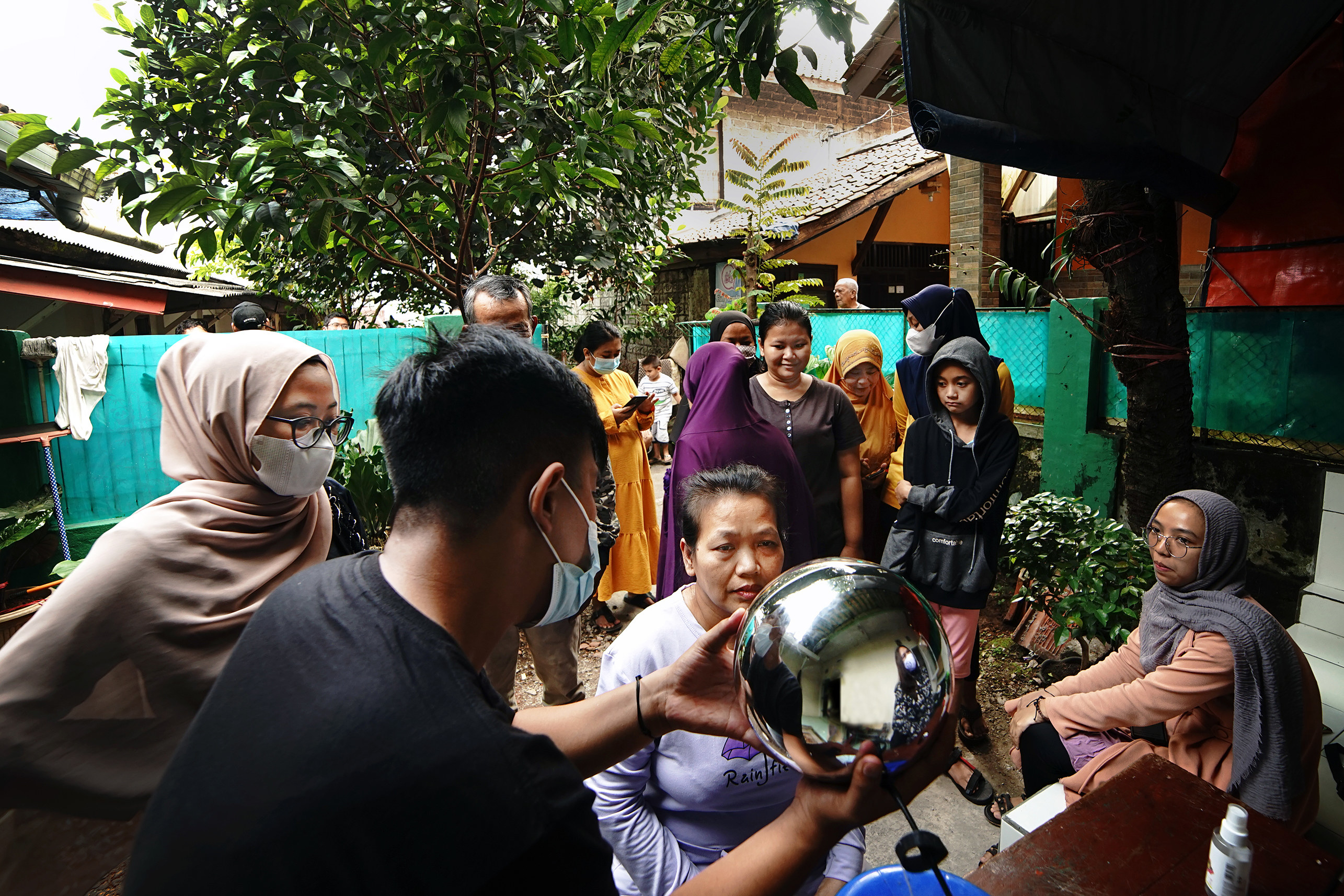 "What do you think this is? A disco ball?"
"Just tell people it's free money."
"Is this a digital currency company, or is this a data broker?"
"We're gonna be hung in the public square."
"I started to have a guilty conscience … You're supposed to tell people what they want to hear, not the truth. And to this day, I still feel bad."
Content retrieved from: https://www.buzzfeednews.com/article/richardnieva/worldcoin-crypto-eyeball-scanning-orb-problems.